The Permanent Representative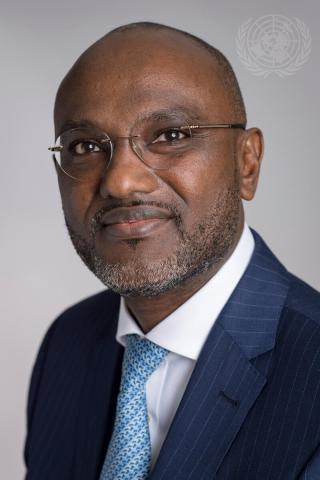 Ambassador Adonia Ayebare is Uganda's Permanent Representative at The United Nations in New York. He was formally Senior Adviser Peace and Security at the African Union Permanent Observer Mission at The United Nations in New York. 
He also served as the Deputy Permanent Represeentative and Charge' d'Affaires of Uganda to the United Nations. He also served as the Director of the Africa Program at International Peace Institute in New York. Ambassador Ayebare is a career Journalist by training and has been published by regional and international publiations.
Ambassador Ayebare has practical experience in conflict prevention and mediation. He worked with mediation teams in Burundi, Somalia and Sudan for over ten years. He also served as Ambassador and Head of Mission in Rwanda and Burundi from 2002-2005 and subsequently became principal adviser and special envoy of Uganda to the Burundi peace process.
As Uganda held the chairmanship of the Burundi peace Initiative, he worked closely with The President of Burundi Pierre Nkururinza and his predecessors, South African and Tanzanian mediators. 
Ambassador Ayebare is a holder of two Masters Degrees from Long Island University and The Fletcher School of Law and Diplomacy, Tufts University, and a certificate in International Security from The Havard Kennedy School. He has two Doctorates from Indiana University, with residence at the United Nations New York and Rutgers University New Jersey, USA.