THE REPUBLIC OF UGANDA AND THE FEDERATION OF SAINT CHRISTOPHER (SAINT. KITTS) AND NEVIS HAVE ESTABLISHED DIPLOMATIC RELATIONS.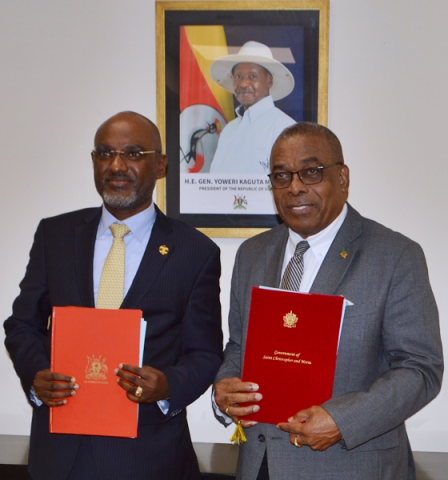 The Republic of Uganda and the Federation of Saint Christopher (Saint. Kitts) and Nevis have established Diplomatic Relations.
The two countries were represented by their Permanent Representatives to the United Nations in New York at the signing ceremony at Uganda House, New York.
Amb. Adonia Ayebare welcomed to Uganda House and, by extension to Uganda, H.E Mr. Ian Mc Donald Liburd, the Permanent Representative of St. Kitts and Nevis, who had, in addition, paid him a courtesy call.
The Permanent Representatives welcomed the establishment of diplomatic relations between the two countries. They underlined that this would go a long way in strengthening the existing bilateral ties between the peoples of Uganda and St. Kitts and Nevis, including the potential investment opportunities available to the private sector in either country.
The two Permanent Representatives further discussed the collaboration between the African Union and CARICOM, climate change, and the forthcoming COP 27.
Finally, the Ambassadors pledged to continue engaging and collaborating on issues of mutual interest for their countries and peoples, especially at the United Nations and within the context of multilateralism.